Residential Window Cleaning Murrieta TEMECULA CA
Residential Window Washing
There's a reason why we're one of the top rated residential window cleaning companies in Riverside county! We'd love to show why!
ABOUT OUR RESIDENTIAL WINDOW CLEANING SERVICE
RESIDENTIAL WINDOW CLEANERS FROM MURRIETA & TEMECULA CA
PROFESSIONAL & RELIABLE WINDOW CLEANING
Black Belt Window Cleaning can provide you with professional and quality residential window cleaning services. Our Company is dedicated to delivering only the best residential window cleaning services through our dedicated staff and reliable residential window cleaners. We are passionate about our work therefore we are committed to giving the very best to our customers. Clean windows can transform the look of a room and we offer detailed and thorough exterior and interior cleaning services at affordable prices. Our attention to detail and commitment to complete work in a timely and efficient manner sets us apart from the rest. Our goal is to wow every customer and deliver the most value possible.
WINDOW Washing MURRIETA, CA
You can also be at ease when we're working hard on your property, because every time we step onto your residence we bring with us a one million dollar liability insurance coverage. Although we've never had to make a claim our insurance policy is for your ease and piece of mind. Your home is protected and in safe hands.
RESIDENTIAL WINDOW Washing MURRIETA, CA
WHATEVER YOU NEED WE GOT YOU COVERED!
We offer monthly, quarterly, semi-annual, and annual window cleaning services and window washing services. Aside from our regular professional window cleaning services, we also offer special window washing services such as hard water stain removal and construction debris removal including paint, stucco, adhesives, or silicon left on the glass from other projects or the initial building of the home. So whether you just need to maintain your already clean windows or to restore your windows from 10 years of neglect we can handle any and all of your needs.
OUR RESIDENTIAL WINDOW CLEANING PROCESS
First we will safely and carefully remove the screens from the windows to be cleaned. Depending on how much love and care the screens need they will be vigorously dusted or washed through our screen washing machine, leaving your screens looking like new. Most of the dust and pollen that blows into your house comes in through the window. Therefore, If your house has screens, having a thorough cleaning along with the window cleaning is very important for two reasons. First of all, is that your screens act as the initial filter for outside allergens and should be cleaned on a regular basis. In addition the second reason is that when it rains, if you have dirty screens the rain drops will pass through the screen onto the glass behind it, transferring any dirt on the screen onto your freshly cleaned glass. Because of these reasons it is very important to clean the screens.
After cleaning the screens the windows will be cleaned of any dirt, bug splats, paint or hard deposits. First, the glass will be cleaned with a microfiber window scrubber soaked in soapy window cleaning solution. Once the glass is wet and all debris are scrubbed off we will then squeegee the glass leaving behind a spotless window. We squeegee the glass with a swivel technique to bring the rubber squeegee across the wet glass covering every inch without ever lifting the rubber off of the window, as a result, no spots or streaks are left behind.  Lastly we touch up the wet edges with surgical cloth and then put the screens back into the window sill. We also provide additional treatments to the windows to remove hard water stains if necessary.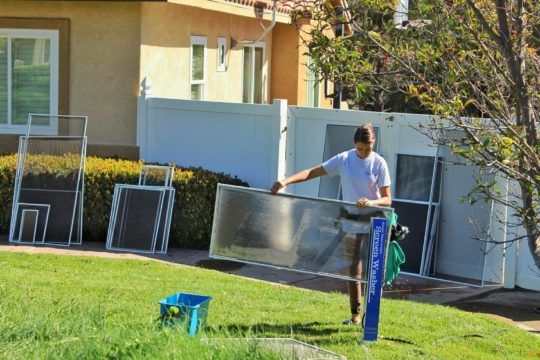 After the exterior and interior glass is cleaned the final step is washing the window track. Over years of time, dirt, bugs, and other debris can build up in the track making them unsightly and also impede the opening and closing of the window. We scrub and wet wipe the tracks to remove all dirt from within them. For extra filthy tracks we first begin by vacuuming while simultaneously brushing the track to break up caked on dirt and suck it out. After we've vacuumed the tracks we continue with the regular cleaning process of scrubbing and wiping the tracks to get out whatever else may remain.
Our system will generate a custom quote for your needs in Just 60 Seconds